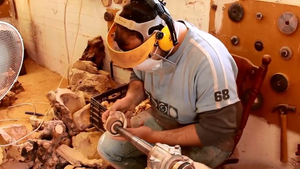 Package 1M 3S
Regular price $26.50 USD Sale
Each handcrafted olive wood piece possesses unique characteristics, color, and style. I have a wide range of olive wood products that is ever-growing to keep up with client's demands.
Each olive wood products are handcrafted and perfected by Me and my Family who transforms a rough tree outline into a finished masterpiece. Once the olive wood is sanded and polished, the finished item is coated with olive oil and honeybees wax to give it a natural shine and ensure longevity.
Please keep in mind that all wood pieces, although closely same in color, differ from one another. This is one of a kind item, impossible to reproduce exactly as it is.
I look forward to building your order if you have any questions or inquires shoot me a message and ill help ya out.
We respect olive trees
Here at OliveWood Glory, we have great love and respect for the olive wood. We ensure that no young trees are cut for production, but only those deemed unproductive are chosen for our work. Branch strength, size, and color are key factors that determine which trees undergo the transformation process.